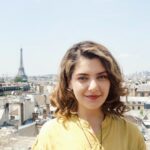 SPPIN - Saints-Pères Paris Institute for the Neurosciences - CNRS UMR 8003
Université Paris Cité
F-75006 Paris
France
Dr. Payvand
Arjmand
Postdoctoral Researcher
Team 5 - Singular Imaging

payvand.arjmand@-Code to remove to avoid SPAM-u-paris.fr
+33 1 76 53 43 49, room P362
About me:
I have a BSc in the field of Physics and I obtained my MSc in Photonics, Micro-nano Technologies and Time-Frequency in 2019 from Université de Franche-Comté. Since then, I have started my PhD studies at SPPIN which is an interdisciplinary laboratory in the field of Neurosciences and Bioimaging. I am a member of Singular Imaging group (SingIng) which is focused on both fundamental studies and instrumental developments in optics.
My PhD Project:
I am currently working on developing a Stimulated Emission Depletion (STED) microscopy technique using speckle patterns. Speckle patterns are spontaneously generated when a coherent light beam encounters a complex media such as biological tissue. These patterns are specially suited for imaging through complex media since:
they contain optical vortices
they allow compressive sensing
they are statistically robust to scattering
My Phd project aims at making use of these interesting features of speckle patterns to achieve fast three-dimensional super-resolution fluorescence microscopy.
Links to my oral presentations in conferences, seminars and workshops:
Recent Publications
Article