OPEN POSTDOC in Zytnicki lab
Role of synaptic connectivity on degeneration of spinal motor neurons in Amyotrophic Lateral Sclerosis (ALS)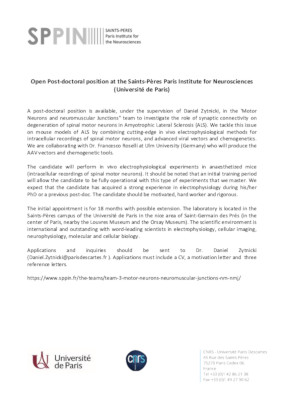 A post-doctoral position is available, under the supervision of Daniel Zytnicki, in the 'Motor Neurons and neuromuscular Junctions" team to investigate the role of synaptic connectivity on degeneration of spinal motor neurons in Amyotrophic Lateral Sclerosis (ALS). We tackle this issue on mouse models of ALS by combining cutting-edge in vivo electrophysiological methods for intracellular recordings of spinal motor neurons, and advanced viral vectors and chemogenetics. We are collaborating with Dr. Francesco Roselli at Ulm University (Germany) who will produce the AAV vectors and chemogenetic tools.
The candidate will perform in vivo electrophysiological experiments in anaesthetized mice (intracellular recordings of spinal motor neurons). It should be noted that an initial training period will allow the candidate to be fully operational with this type of experiments that we master. We expect that the candidate has acquired a strong experience in electrophysiology during his/her PhD or a previous post-doc. The candidate should be motivated, hard worker and rigorous.
The initial appointment is for 18 months with possible extension. The laboratory is located in the Saints-Pères campus of the Université de Paris in the nice area of Saint-Germain des Prés (in the center of Paris, nearby the Louvres Museum and the Orsay Museum). The scientific environment is international and outstanding with word-leading scientists in electrophysiology, cellular imaging, neurophysiology, molecular and cellular biology.
Applications and inquiries should be sent to Dr. Daniel Zytnicki. Applications must include a CV, a motivation letter and three reference letters.
Contact
SPPIN. https://sppin.fr
E-mail: daniel.zytnicki@parisdescartes.fr